A Luxury Honeymoon Safari:

Enchanting Escapades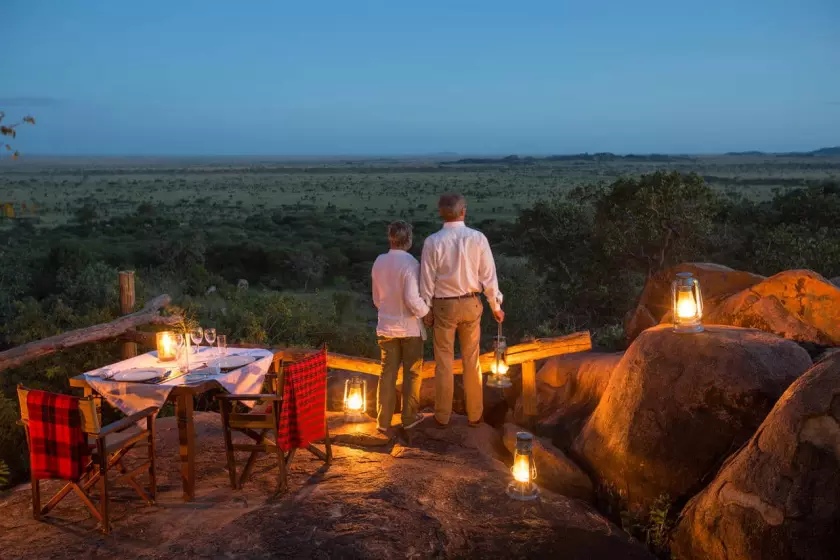 A honeymoon is a once-in-a-lifetime journey that deserves to be truly exceptional. While the idea of a beachfront resort or a city escape is enticing, why not consider something truly extraordinary for your post-wedding adventure? Enter the luxury honeymoon safari – a unique and unforgettable way to celebrate your new life together. Picture this: the African savannah as your backdrop, exotic wildlife as your companions, and intimate lodges providing the utmost in comfort and privacy. If this sounds intriguing, read on to explore the world of luxury honeymoon safaris and discover why it's an experience like no other.
The Romance of the Wild
A luxury honeymoon safari offers a captivating blend of adventure and romance. As you set out on game drives across vast landscapes, you and your partner will be greeted by awe-inspiring sights. Imagine watching a golden sunrise over the African plains as you sip on champagne and toast to your love. The thrill of spotting the "Big Five" – lions, elephants, leopards, buffalos, and rhinoceros – in their natural habitat creates a sense of shared excitement that deepens the bond between you and your spouse.
Intimate and Exclusive Lodges
One of the hallmarks of a luxury honeymoon safari is the accommodation. Choose from a range of intimate lodges and luxurious tented camps, carefully designed to provide the utmost in comfort and privacy. These lodges often offer secluded suites with private plunge pools, outdoor showers, and panoramic views of the wilderness. Imagine unwinding on your private deck, overlooking the serene African landscape, while the sounds of the bush serenade you. Some luxury lodges you can look up to especially in the Serengeti and Ngorongoro Crater; Melia Serengeti, Four Seasons Serenegti, The Highlands among other exceptional lodges.

Culinary Delights
Food is an essential part of any honeymoon experience, and luxury safari lodges do not disappoint. Savor gourmet meals prepared by talented chefs who infuse local flavors into every dish. Many lodges also offer romantic bush dinners under the stars, where you can enjoy a candlelit meal in the heart of the wilderness, creating cherished memories with your loved one.
Adventure and Relaxation in Equal Measure
While the heart-pounding excitement of game drives and wildlife encounters will undoubtedly be a highlight of your luxury honeymoon safari, there's ample opportunity for relaxation too. Most lodges offer spa facilities where you can indulge in couples' massages and treatments, helping you unwind and rejuvenate after your adventures.
Creating Unforgettable Memories
A luxury honeymoon safari isn't just a vacation; it's an adventure of a lifetime that will leave you with memories to cherish forever. From witnessing the breathtaking beauty of Victoria Falls to the serenity of a hot air balloon ride over the savannah, every moment is designed to create lasting memories that you and your partner will treasure.
Why Choose a Luxury Honeymoon Safari?
Exquisite Accommodations: Stay in sumptuous lodges and camps that offer elegant suites, private plunge pools, and panoramic views of the African bush.

Personalized Experiences: Luxury safaris are tailored to your preferences, allowing you to design your dream honeymoon with activities that align with your interests.
Intimate Wildlife Encounters: Enjoy private game drives and guided walks with expert trackers, providing exclusive opportunities to witness Africa's magnificent wildlife.
Romantic Settings: Dine under the stars, savor gourmet meals, and sip champagne by a private campfire, creating enchanting moments that celebrate your love.
Spa and Wellness: Many luxury lodges offer spa and wellness facilities, allowing you to indulge in rejuvenating treatments amidst the tranquility of the African bush.
Adventure and Relaxation: Luxury safaris seamlessly blend adventure with relaxation, offering you thrilling wildlife encounters and peaceful moments of solitude.
Destinations for a Luxury Safari Honeymoon:
Serengeti National Park, Tanzania:

Explore the iconic Serengeti on a luxury safari, where you can witness the Great Migration and indulge in unparalleled luxury amidst the savannah. This is our area of specialty, take a look at this sample of

honeymoon itinerary

you can book today!

Okavango Delta, Botswana:

Discover the pristine waterways and wildlife-rich landscapes of the Okavango Delta while staying in exquisite safari lodges.

Maasai Mara, Kenya:

Experience the Maasai Mara's stunning vistas and abundant wildlife, combined with the utmost in comfort and personalized service.

Kruger National Park, South Africa:

Encounter the Big Five in style with luxury lodges in the heart of Kruger National Park, known for its rich biodiversity.

Victoria Falls, Zambia/Zimbabwe:

Combine a luxury safari with a visit to the awe-inspiring Victoria Falls, staying in opulent accommodations on the banks of the Zambezi River.
Planning Your Luxury Safari Honeymoon:
Budget Considerations: Determine your budget and select luxury lodges or camps that align with your financial plan.
Travel Season: Research the best time to visit your chosen destination to ensure optimal wildlife viewing and weather conditions.
Activities: Discuss your interests with your travel advisor to craft a personalized itinerary, incorporating activities that resonate with both of you.
Special Celebrations: Plan surprises, private dinners, and romantic activities to make your honeymoon even more memorable.
Packing Essentials: Pack suitable clothing, camera gear, and any personal items you may need during your luxury safari honeymoon.
Conclusion
If you're seeking a honeymoon experience that transcends the ordinary and provides an extraordinary start to your married life, a luxury honeymoon safari is the perfect choice. With its blend of adventure, romance, and unmatched natural beauty, it promises to be an unforgettable journey that will deepen your love and create cherished memories that will last a lifetime. So, why settle for the ordinary when you can embark on a journey of a lifetime through the wild wonders of Africa with your beloved?