Introduction
The Marangu Route is often dubbed the "Coca-Cola Route" due to its reputation for being the most comfortable and straightforward path up Mount Kilimanjaro. However, don't let that nickname fool you. Kilimanjaro is a formidable challenge, and the 6 Days Marangu Route Kilimanjaro Climbing offers a remarkable journey through lush rainforests, alpine meadows, and awe-inspiring landscapes.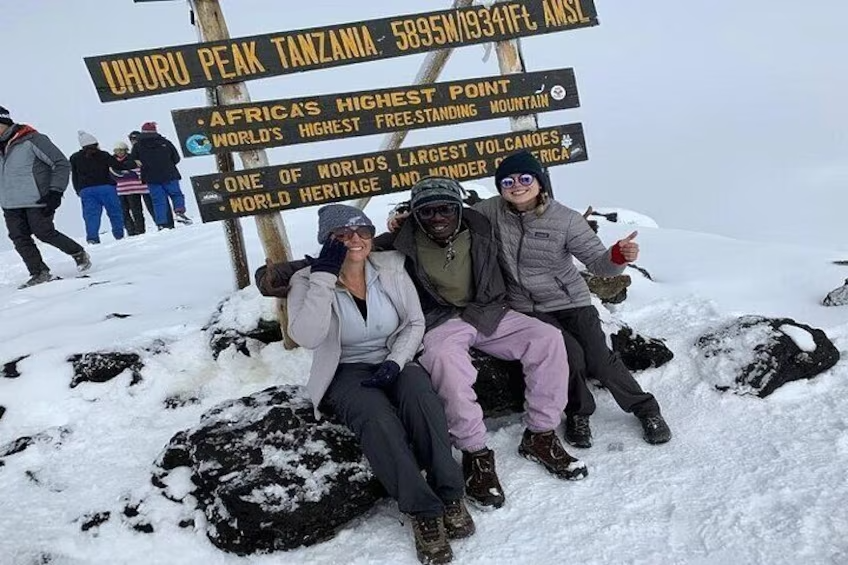 Choosing the Marangu Route
Selecting the right route is essential for a successful Kilimanjaro climb. The Marangu Route is favored for its gradual ascent, comfortable huts for overnight stays, and the opportunity to witness diverse flora and fauna.
Preparation and Gear
Proper preparation and the right gear are crucial for a successful Kilimanjaro climb. From clothing and equipment to physical training, we'll provide you with all the necessary information to get ready for your adventure.
Day 1: Marangu Gate to Mandara Hut
The journey begins at the Marangu Gate, the entrance to Kilimanjaro National Park. On this day, you'll hike through lush rainforests, catching glimpses of wildlife, until you reach Mandara Hut for your first overnight stay.
Day 2: Mandara Hut to Horombo Hut
As you ascend, the scenery changes dramatically. You'll traverse the heather and moorland zones, enjoying breathtaking views of Mawenzi Peak and the surrounding landscapes.
Day 3: Acclimatization Day at Horombo Hut
Proper acclimatization is essential for a successful climb. You'll spend a day at Horombo Hut, allowing your body to adjust to the altitude while exploring the surroundings.
Day 4: Horombo Hut to Kibo Hut
On this day, you'll make your way to Kibo Hut, the final camp before your summit attempt. The stark alpine desert landscape will be a stark contrast to the lush rainforests you started in.
Day 5: Summit Night
Summit night is an extraordinary experience. You'll rise in the wee hours, braving the cold to reach the summit. The night sky is adorned with countless stars, and your journey culminates at Uhuru Peak, the roof of Africa.
Uhuru Peak: The Summit
Standing on Uhuru Peak is a moment of pure triumph. You'll witness the African sunrise from the highest point on the continent and take in breathtaking panoramic views.
Descent: Gilman's Point to Horombo Hut
Descending Kilimanjaro is just as important as ascending. You'll make your way back down to Horombo Hut, reflecting on your achievement and taking in the scenery from a different perspective.
Day 6: Horombo Hut to Marangu Gate
The final day of your journey takes you back to Marangu Gate, where you'll receive your certificate of accomplishment. This is a time for reflection and celebration.
Cultural Interactions Along the Way
One unique aspect of the Marangu Route is the opportunity to interact with the local Chagga people. Learn about their culture, traditions, and way of life as you pass through their villages.
Challenges and Rewards
Climbing Kilimanjaro is not without its challenges, but the rewards are immeasurable. The sense of accomplishment and the breathtaking beauty you'll encounter make it all worthwhile.
Best Time to Climb
Understanding the best time to embark on this adventure is crucial. We'll help you choose the ideal season for your Kilimanjaro climb, taking into consideration weather conditions and crowds.
Conclusion
The Marangu Route Kilimanjaro climbing itinerary is a remarkable journey that offers adventure, culture, and natural beauty. Conquering Africa's highest peak is an achievement like no other, and this route makes it accessible to adventurers of all levels.
FAQs (Frequently Asked Questions)
How long does it take to climb Kilimanjaro via the Marangu Route?
The standard Marangu Route typically takes 5 to 6 days to reach the summit.
Do I need prior climbing experience to attempt the Marangu Route?
While prior experience is beneficial, it's not a requirement. The gradual ascent and comfortable huts make it suitable for trekkers of various levels.
What is the best time of year to climb Kilimanjaro using the Marangu Route?
The best time is during the dry seasons, which are from June to October and from December to February.
How physically demanding is the Marangu Route climb?
The Marangu Route is considered a moderate climb. Physical fitness and proper preparation are essential.
Can I climb Kilimanjaro on the Marangu Route independently, or do I need a guide?
Kilimanjaro National Park requires all climbers to be accompanied by a certified guide and porters for safety and conservation reasons. Read Safari Nuggets reviews in TripAdvisor on what other people say about our services.