Introduction
Embarking on the journey to conquer Mount Kilimanjaro, the highest free-standing mountain in the world, is an adventure of a lifetime. The Machame Route, known as the "Whiskey Route" due to its challenging nature, offers a thrilling experience to trekkers. In this article, we will provide a comprehensive 6-Days Machame Route Kilimanjaro climbing, ensuring you are well-prepared for this incredible adventure.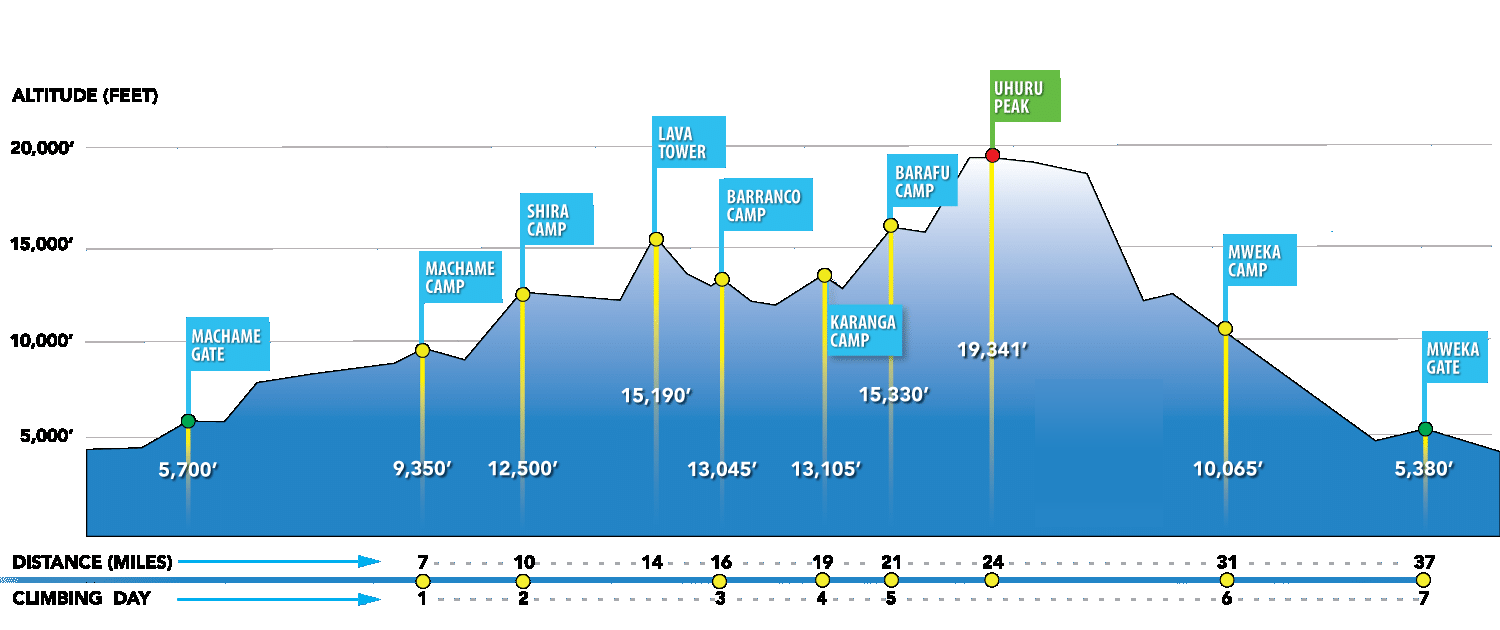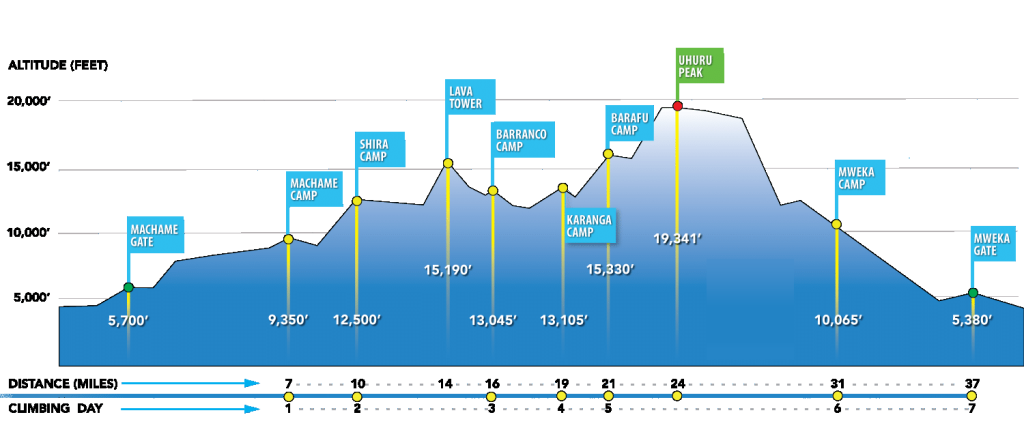 Day 1: Arrival in Moshi
Your Kilimanjaro adventure begins with your arrival in Moshi, a bustling town in Tanzania. You'll be transferred to your hotel, where you can rest and prepare for the climb. It's essential to spend this time acclimatizing to the altitude.
Day 2: Machame Gate to Machame Camp
Your first day on the mountain begins with a drive to the Machame Gate, where you'll complete registration and meet your expert guide and porters. The trek starts through the lush rainforest, a habitat for various wildlife and flora. Your first campsite, Machame Camp, is nestled in the heart of the forest.
Day 3: Machame Camp to Shira Camp
As you continue your ascent, the landscape transitions from rainforest to heath and moorland. You'll cross the Shira Plateau and reach Shira Camp. This is a crucial day for acclimatization, as you'll gain significant elevation.
Day 4: Shira Camp to Barranco Camp
Today's hike will take you to Barranco Camp, situated at the base of the imposing Barranco Wall. The trek offers stunning views of the Kibo Peak and the surrounding landscapes. As you approach the Barranco Camp, you'll be greeted by the unique Barranco Valley.
Day 5: Barranco Camp to Barafu Camp
On this day, you'll ascend the Barranco Wall, a challenging but exhilarating climb. After conquering the wall, you'll continue your journey to Barafu Camp, your final camp before the summit attempt. Here, you'll rest and prepare for the ultimate challenge.
Day 6: Barafu Camp to Uhuru Peak and Back to Mweka Camp
The summit day is both physically and emotionally demanding. You'll start your ascent to Uhuru Peak, the highest point in Africa, during the midnight hours. As you make your way to the summit, the mesmerizing sunrise will greet you at Stella Point. After reaching the summit, you'll begin your descent to Mweka Camp.
Day 7: Mweka Camp to Mweka Gate
The final day of your adventure sees you trekking through the lush Mweka rainforest. The descend is filled with relief and awe at your incredible accomplishment. Upon reaching Mweka Gate, you'll receive your summit certificates and be transferred back to Moshi.
Conclusion
Climbing Mount Kilimanjaro via the Machame Route is a remarkable journey filled with breathtaking scenery and personal triumph. This 6-day itinerary ensures that you have the best opportunity for acclimatization and a successful summit attempt.
Now that you are well-informed about the Machame Route, it's time to make your dream a reality and conquer this iconic peak.
FAQs
Is climbing Kilimanjaro safe? Yes, with proper preparation, experienced guides, and adherence to safety guidelines, Kilimanjaro is a safe trek. Read our TripAdvisor reviews and see what other people say about Safari Nuggets.
What is the best time to climb Kilimanjaro via the Machame Route? The best times are January-March and June-October when the weather is most favorable.
Do I need prior climbing experience? While experience is helpful, it's not mandatory. Physical fitness and mental determination are key.
What should I pack for the trek? Essential items include warm clothing, comfortable hiking boots, a good sleeping bag, and a backpack.
Can I climb Kilimanjaro solo? Most trekking companies require a minimum group size, but solo climbs can be arranged with specialized guides.