A 14-day honeymoon safari and Zanzibar beach getaway in Tanzania offers the perfect blend of adventure and romance. Here's a detailed 14-day itinerary that will provide you with an unforgettable experience: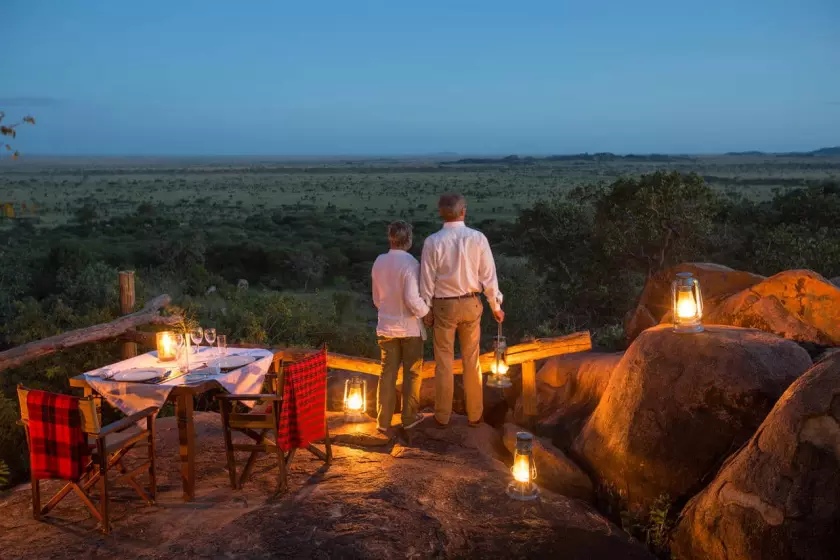 Day 1: Arrival in Arusha
Arrive at Kilimanjaro International Airport (JRO).
Transfer to a romantic lodge or hotel in Arusha.
Enjoy a welcome dinner and unwind from your journey.
Day 2: Arusha – Tarangire National Park
After breakfast, depart for Tarangire National Park.
Arrive for an afternoon game drive to witness elephants, baobab trees, and diverse wildlife.
Overnight at a luxury lodge in Tarangire.
Day 3: Tarangire – Lake Manyara
Morning game drive in Tarangire.
Drive to Lake Manyara National Park, known for tree-climbing lions and beautiful birdlife.
Overnight at a charming lodge near the lake.
Day 4: Lake Manyara – Ngorongoro Crater
Explore Lake Manyara with a morning game drive.
Drive to the Ngorongoro Crater and arrive at your lodge on the crater rim.
Enjoy a romantic evening at the lodge.
Day 5: Ngorongoro Crater
Descend into the Ngorongoro Crater for a full-day game drive.
Experience the unique ecosystem and spot the Big Five.
Return to your lodge for a cozy dinner.
Day 6: Ngorongoro – Serengeti National Park
After breakfast, drive to Serengeti National Park.
Enjoy game drives en route to your luxurious Serengeti camp or lodge.
Spend the evening surrounded by the sounds of the African wilderness.
Day 7: Serengeti National Park (Central or Western Serengeti)
Early morning today you will start with an amazing balloon safari– a safari from the sky.
Spend the day exploring the endless plains of the Serengeti.
Encounter incredible wildlife, including cheetahs, leopards, and the Great Migration.
Have a romantic bush dinner.
Day 8: Serengeti National Park (Northern Serengeti)
Drive to the northern Serengeti, famous for river crossings during the Great Migration.
Enjoy thrilling game drives and witness river crossings if it's migration season.
Overnight at a luxury tented camp.
Day 9: Serengeti – Zanzibar
Enjoy a morning game drive in the northern Serengeti.
Fly to Zanzibar and arrive at your beachfront resort.
Unwind on the white sandy beaches and take in the stunning turquoise waters.
Day 10-13: Zanzibar
Four days of leisure in Zanzibar for relaxation and exploration.
Options include snorkeling, scuba diving, spice tours, historic Stone Town visits, and sunset dhow cruises.
Savor delicious seafood and Swahili cuisine during romantic beachfront dinners.
Day 14: Departure from Zanzibar
Depending on your departure time, enjoy your last moments on the Zanzibar beach.
Transfer to Zanzibar's Abeid Amani Karume International Airport (ZNZ) for your onward journey or international flight back home.
This itinerary of 14-day honeymoon safari and Zanzibar beach getaway combines the thrill of a safari adventure in Tanzania's wildlife-rich national parks with the serene beauty of Zanzibar's beaches and cultural experiences. Customize your honeymoon further by adding activities or experiences that resonate with your interests as a couple. Ensure you have all the necessary travel documents, such as visas and vaccinations, and consult with a reputable safari and travel operator to create your dream honeymoon in Tanzania and Zanzibar.